worked on restorative justice at Edinburgh in 2009-2010 and again in 2017, and is now back at the University of Liège, Belgium.
current doctoral students
is exploring the ways in which homeless people negotiate work opportunities which may be exploitative.  She is author of The Truth About Modern Slavery (Pluto, 2021) and Who Cares: the hidden crisis of caregiving and how we solve it (2023).
is Director of Strategy Management and Institutional Excellence in the Ministry of Housing, Bahrain, and is writing about the origins of New Town planning there.
holds an MSc, an MPP and a World Championship medal, and is working on the need for a duty of care for elite athletes.
is completing his PhD by publication, drawing on both Hegel and a career in consultancy to rethink leadership in local government.
visited from Radboud University in Nijmegen, studying experimentalist governance among child welfare practitioners.
is a Senior Economist with the World Bank's Global Practice on Health, Nutrition and Population and worked on the governance of primary health care markets in Sweden.
visited the SKAPE centre in 2017, while completing her PhD on evaluation research.  She now has a postdoctoral position at Oslo Metropolitan University.
worked previously at the Equality Challenge Unit in London, and came to Edinburgh to research and write about the development of intersectionality in practice.
studied the working out of health care reform on the ground, at an HIV clinic in Atlanta.  She teaches global health at Emory University.
is now at the University of Amsterdam, working on the way bureaucrats in Brussels hold the worlds of law and politics together in negotiating European military interventions.
worked on the sociology and politics of mental health care for young people in the justice system in Russia.
was on the doctoral programme in Sociology at the Institut für höhere Studien, Vienna, working on the knowledge practices of public servants in sustainable food consumption policy.
studied and worked in theatre in New York, and wrote her thesis on the production and performance of public memory at Ground Zero.
was Research Associate in the Innovation in Governance Research Group at the Technische Universität in Berlin, investigating the emergence and consolidation of emissions trading through networks of documents.
worked in the Department of Health in Pretoria and then at the National Youth Commission before moving to the Independent Development Trust. His PhD was about ways of conceptualising policy making in South Africa.
worked for the BBC and the Royal Society of Arts, and then as Policy and Research Manager for Community Matters in London. Her doctoral thesis was an ethnographic study of emotion in the policy work of a Scottish NGO.
studied the European Commission's implementation of the external dimension of immigration policy. In 2009-2010, she was Research Assistant on the EC-funded project 'Multilateralism and the EU in the Contemporary Global Order (MERCURY)'.
drawing on both public policy and political geography, used the concept of scale to think about the formation and development of Academy Schools in England. She went on to work on a Horizon 2020 project comparing youth smoking prevention policies in 7 European...
explored the possibilities of a post-liberal agency among participants in higher education projects in the Canadian Arctic, and now teaches at the University of Sussex.
wrote about the construction of space in peace-building, drawing on fieldwork at the UN and in Timor-Leste. She is now Strategic Assessment Architect at the Scottish Government.
wrote about the changing conception of wilderness in Canadian identity, using material from pre- and post-war school books.
studied the work of professional 'engagers' in public participation processes, and now teaches public policy at the University of Edinburgh.
completed her thesis on creating, implementing and resisting the National Care Homes Contract in Scotland and is now Head of Impact and Engagement at IRISS.
studied young adults' participation in health care decision making in Scotland, while also working on a government-funded evaluation of elections to Health Boards.
wrote about the return migration of workers from Algeria and Senegal who have settled in Paris. He was then Research Fellow on a project investigating the role of the social sciences in shaping public understanding of immigrant integration.
is a journalist and former Head of Communications for the Scottish Labour Party. His doctoral thesis assessed Donald Dewar's role in Scottish devolution.
worked previously as a social affairs analyst for BBC News and is now Fellow in health policy at the King's Fund in London. She held a Bernard Crick Fellowship at Edinburgh, where her doctoral research analysed ways of knowing in policy work in England's Department of...
worked at research centres in Perm and Moscow, and completed an internship at the ILO in Geneva. Her doctoral research investigated the role of bilateral agreements in international staff recruitment to the NHS. She is now Research Fellow in the Global Public Health...
is a former consultant who developed the concept of gender knowledge to account for different patterns of gender mainstreaming in Europe. She was a visiting scholar at Humboldt University, Berlin, a Marie Curie Fellow at Radboud University, Nijmegen, and is now...
as Scientific Officer at the European Centre for Disease Prevention and Control (ECDC), was researching the international governance of infectious disease.
wrote about Democratic Party workers in Boston, and is now Senior Director of Research and Development at the American Political Science Association.
completed her PhD on communication patterns and the domestication of information technology in general practice while working at the Audit Commission in London.
worked on gender mainstreaming and the Scottish Executive and is now working at the Home Office in London.
wrote about the Third Way and is now Assistant Professor at National Sun Yat-sen University, Taiwan.
wrote about neo-nationalist ideology in Scotland and Bavaria and now teaches Politics at the University of Manchester.
researched the occupational governance of nursing in Britain and Germany and is now Associate Professor of Public Policy, University of Aarhus, Denmark.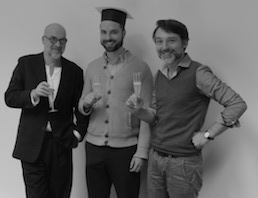 Postdocs and other research fellows come to Edinburgh to write and to develop new projects. They become part of academic communities both here and abroad, and many also make valuable contacts with policy makers and practitioners in government and beyond.
Most postgraduate students working on policy also have some experience of working in policy, whether for government or other organizations. This is where they find some of their most challenging and practice-relevant topics. For the same reason, many also study and...
Get in touch if you'd like to talk about doing doctoral or postdoctoral research at Edinburgh, in any of the subjects and centres in the Graduate School. Just use the contact button on the menu page, above.